Mar 26, 2014 — by Eric Brown 2,077 views
3M has released Android 4.x and Linux 3.x kernel patches for its multitouch displays, supporting screens up to 46 inches.

With Android increasingly appearing in all-in-one (AiO) PCs, and moving into kiosks and interactive digital signage, Android developers need help in optimizing their applications for the big screen. 3M's release of Android kernel patches for its big touchscreens lets Android developers talk directly to the touchscreen controller hardware, for more refined scaling of applications.

3M's 46-inch C4667PW display
In addition to providing multitouch kernel patches for Android 4.0 (Ice Cream Sandwich), 4.1-4.3 (Jelly Bean), and 4.4 (KitKat), the company has released patches for Linux, including the version 3.0.1, 3.0.31, 3.4.1, and 3.4.10 kernels. Mac and Windows drivers are already available.
According to 3M, the patches help developers optimize applications for the "ultra-fast touch response and the high touch threshold" provided by its projected capacitive technology. 3M's displays support up to 60 simultaneous touches, enabling new multi-user, collaborative applications, says the company.
3M's multitouch displays range in size from 15 to 46 inches, available in both vertical desktop configurations or in chassis mode. The devices offer a range of video inputs, and feature resolution as high as 1680 x 1050 pixels.
3M's HD-ready, 46-inch C4667PW shown above, was featured in an Android 4.1-based Platform 46 Coffee Table announced last month by Ideum (see image below). Aimed at gaming and entertainment, retail, trade shows, museum exhibits, and corporate environments, the table runs on an Intel Core i7 processor. The underlying screen offers 12ms response.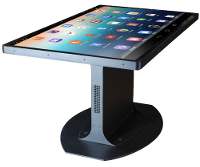 Ideum Platform 46 Table with C4667PW display, running Android 4.1
(click images to enlarge)

"High-performance, multi-touch Android applications are key to expanding the reach of 3M multi-touch systems and displays," stated Diego Romeu, global business unit manager, 3M Electronic Solutions Division.

Further information
The Android and Linux kernel patches for 3M's multitouch displays may be found at 3M's Driver Support. More information on the displays may be found at 3M's Multi-Touch Displays product page.