Oct 3, 2016 — by Eric Brown 11,690 views

Globalscale's "EspressoBin" network switching Pico-ITX SBC offers Marvell's dual-core, Cortex-A53 Armada 3720 SoC, plus 2x GbE, 1x WAN, SATA, and mini-PCIe.

Globalscale Technologies and its hardware partner Marvell, which have previously collaborated on products such as the Armada 370 Mirabox, have joined forces on a Linux-fueled EspressoBin network switching single-board computer. The EspressoBin is based on a more powerful Marvell Armada SoC: a dual-core, Cortex-A53 Armada 3720 clocked to 1.2GHz.


EspressoBin front (left) and back views
(click images to enlarge)

The 100 x 72mm, Pico-ITX form-factor EspressoBin SBC stands out from the crowd with its Marvell Topaz Network Switch. The SBC offers two standard GbE ports, plus a WAN input. Other features include SATA, mini-PCIe, USB 3.0, USB 2.0, and 92x GPIO. You also get up to 1GB RAM, 4GB optional eMMC, and a microSD slot. The EspressoBin offers open source Linux software with Mainline Kernel support, but the hardware is proprietary.

EspressoBin angled view
(click image to enlarge)

The EspressoBin just went live on Kickstarter, starting at a fetching $39 for an initial production run shipping in January 2017. This model lacks the 12V supply for Network-Attached Storage (NAS) applications, but still has the 5V micro-USB input. The standard $49 version ships in March with the 12V supply, and a $69 version also due in March will include a 4GB microSD card along with a WiFi module for the SBC's mini-PCIe slot.

EspressoBin details
(click image to enlarge)

The EspressoBin is aimed at a variety of applications including home and office NAS, media streaming, and IoT. Specific examples include a NAS video streaming solution that streams SATA-stored video through WiFi, as well as a video camera monitor and a
Plex
media server. You can also create a stacking switch cluster that acts as an IoT gateway that converts ZigBee or Z-Wave to Ethernet, or Bluetooth LE to IP, says Globalscale.

EspressoBin expansion header (P8 and P9) signals
(click image to enlarge)

The Armada 3720 is part of the Armada 3700 family of dual-core Cortex-A53 SoCs. The Armada 3270 lacks a GPU, but offers networking features like 3x high-speed SERDES lanes, a package processor, and a security engine. Armada also has a number of quad-core -A53 SoCs such as the
Armada 1500 Ultra
STB SoC or the Marvell IAP140, which is used on the 96Boards form-factor
Andromeda Box Edge
SBC.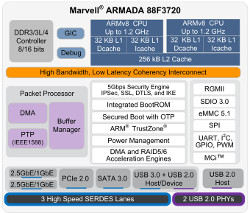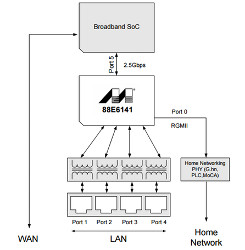 Marvell Armada 3720 block diagram (left) and Marvell Topaz Network Switch diagram
(click images to enlarge)

Marvell is hosting software for the Armada 3700 designed for the EspressoBin on GitHub and an upcoming wiki. The software features Linux Kernel 4.4.1 with Mainline Kernel support, with supported distributions including Ubuntu Core, ArchLinuxARM, Debian, OpenWrt, and Yocto Project.
Documentation for the EspressoBin is not yet fully definitive, but close enough for a spec list:
Processor — Marvell Armada 3270 (2x ARMv8, 64-bit Cortex-A53 @ 1.2GHz)
Memory/storage:

512MB or 1GB of DDR3 RAM
Optional 4GB eMMC
MicroSD slot with optional 4GB card
Powered SATA interface

Wireless — optional WiFi module for mini-PCIe slot
Networking:

2x Gigabit Ethernet LAN ports
1x GbE WAN port
Topaz Networking Switch (Marvell 88E6141)

2x USB ports — 1x USB 3.0 and 1x USB 2.0
mini-PCI slot for WiFi, Bluetooth, etc.
2x 46-pin expansion headers containing GPIO, UART, I2C, SPI, PWM, and MMC signals from the Armada 3270 SoC, plus reset and 3.3V power
Power — 12V jack and/or 5V (micro-USB); 1W typical consumption @ 1GHz with thermal dissipation
Dimensions — 100 x 72mm (Pico-ITX form factor)
Operating system — Linux Kernel 4.4.1 (Mainline Kernel support), supporting Ubuntu Core, ArchLinuxARM, Debian, OpenWrt, and Yocto Project distributions
EspressoBin demo video

Further information
The EspressoBin is available on Kickstarter in $39, $49, and $69 packages as well as volume discounts, with shipments due in January or March 2017. More information may be found at the Globalscale Technologies EspressoBin Kickstarer page.