Jul 28, 2017 — by Eric Brown 2,533 views
With the launch of Glass Enterprise Edition, we decided to check up on the competition. Here are 10 smart eyewear products that run Android or Linux.

Last week, Google umbrella firm Alphabet formally announced an enterprise version of the defunct Google Glass smart eyeglasses, which had previously moved from Google to Alphabet's X unit. Over the last two years, Glass Enterprise Edition (Glass EE) has been tested at more than 50 companies including Boeing, DHL, GE, and Volkswagen, and is now more widely available via a corporate partner program. Alphabet's claims of the eyewear's productivity gains has been partially backed up by reports from Wired and others that have interviewed workers at several Glass EE corporate partners.


Glass EE on AGCO worker (left) and Dignity Health physician
(click images to enlarge)

Glass EE has been under development since April 2014 when Google announced a Glass at Work project. The announcement followed widespread criticism of the Android-based, camera-enabled Explorer Edition for consumers, including bans in bars and restaurants over privacy concerns. Others dinged it for its looks — by 2014, few wanted to be seen as a "glasshole."
Atheer AiR Glasses, Daqri Smart Glasses, and GlassUp F4
Shortly after the launch of Glass at Work, I compiled a Linux.com
survey of 11 smart eyewear devices
that ran on Android or Linux. Here we update that report with 10 of the latest models, including the Glass EE. Eight of our 11 vendors from the 2014 story are represented here with updated or new models. (For a shorter version of this story, see the
Linux.com edition
.)
A Forrester Research study projects that the smart glasses market will grow from $6 million in 2016 to over $3.6 billion by 2025. The study projects that smart eyewear will be used by over 14.4 million U.S. workers.
All the eyewear here, save perhaps for the Tobii Pro 2 eye-tracking glasses, which are used for market research, can be considered to provide at least partial augmented reality (AR). Some smart glasses, like Laforge's Shima, are limited to touch controls and GUI text displays sync'd to a companion smartphone, somewhat like an eyeglass version of a smartwatch. Yet Shima is still partial AR, for example, in that the displays change based on sensor inputs such as speed. Glass EE and some other eyewear computers go further, but mostly in the multimedia area rather than AR — they offer voice-or touch-controlled video or more robust GUI displays on one or both sides of one's field of view (FOV).
More advanced systems, often housed in bulkier headsets, offer true AR displays that overlay multimedia in the FOV triggered by multiple sensor inputs from the immediate area. Some products now coming on the market even map AR displays to real-world objects.

Epson Moverio BT-300, Vuzix M300 Smart Glasses, and Everysight Raptor
Most of the products here are focused on the same enterprise market as Glass EE, such as field services, manufacturing, logistics, and healthcare. Having a hands-free, voice controlled computer with an AR display is useful to workers that are increasingly asked to consult manuals or computers. Rugged handhelds can do the job for many, but other workers need both hands free. Non-enterprise products include Laforge's consumer-oriented Shima glasses and Everysight's Raptor, which is designed for bicyclists and triathletes.
ODG R7-HL, Laforge Shima, and Tobii Pro Glasses 2
Products that have disappeared since 2014 include the
Skully AR1
motorcycle helmet and the Recon Jet eyewear. Intel acquired Recon, but recently
discontinued
the Recon Jet. The Recon
Snow2
ski helmet appears to have already been discontinued. We omitted the Android-based
RideOn
ski goggles, which
won Indiegogo funding
in 2015. The website is still up, but we could no longer find them for sale, and the company did not reply to our query.
Our list of 10 products is limited to those with onboard Linux or Android computers, which eliminates the impressive, $3,000 Microsoft HoloLens AR/VR "mixed reality" headgear. We also skipped Sony's SmartEyeglass (Developer Edition) Android phone companion, because Sony does not reveal its OS.


Epson Moverio BT-300 with controller
(click image to enlarge)

We are not including exclusively immersive VR headgear or video viewers. We also omit devices that require tethering to a laptop, such as the Meta2. Several of our contenders, however, are tethered to pocketable control or storage units.
Here's a brief glance at 10 intriguing Linux and Android eyewear products. We highlight one per company, but in several cases mention other specialty or emerging models. More detailed summaries follow the list below, which includes links to product pages.
After being forced to refund its Indiegogo funders back in 2014 for the initial Atheer AiR, Atheer returned the following year with an updated Atheer AiR Glasses augmented reality (AR) product more firmly directed at the enterprise. Running an Android-based AiR OS on a quad-core Nvidia Tegra K1, the Atheer Air Glasses are notable for offering gesture control of AR components.

Atheer AiR Glasses
The device includes dual
[email protected]
, 4-megapixel RGB cameras with a wide, 50-degree field of view (FOV). This is combined with input from a a 3D depth sensing camera, directional microphone, and a 9-axis inertial measurement unit (IMU) to offer precise tracking.
The Atheer Air Glasses feature 2GB RAM, up to 128GB flash, WiFi-ac, Bluetooth 4.1, and USB Type-C and HDMI ports. There's also a 3100mAH battery and an optional 4G/LTE and GPS module. The downside is that the device is tethered to fairly large, although pocketable, compute device.
The AiR Glasses can display video calls and real-time overlaid image annotations from remote experts, while still maintaining a full view of the immediate environment. The device ships with an SDK that can adapt existing Android apps. There's also an optional AiR Suite for Enterprise program with AiR Hub (collaboration), AiR Flow (management), and AiR Designer (task flow) apps, as well as a similar AiR Experience package sold to third-party eyewear manufacturers.
In 2014, we covered Daqri's flagship, Daqri Smart Helmet, which ran Android on a Qualcomm Snapdragon SoC. Earlier this year, the helmet was upgraded to a v2 model that runs Linux on a much faster 6th Gen Intel Core M7 CPU, and adds an Intel RealSense LR200 depth-sensing camera. These same basic features are also available in the relatively lighter (400 grams), cheaper ($4,995), and less ruggedized Daqri Smart Glasses Developer Version. Orders posted now for the Smart Glasses will ship later this year.


Daqri Smart Glasses
(click image to enlarge)

The Daqri Smart Glasses offer the same high-end multimedia and AR displays as the Smart Helmet. The glasses display semi-transparent overlays including augmented and mixed reality work instructions, safety information, and maps. The apps are developed with the Linux-based VOS (visual operating system) SDK and Daqri 4D Studio augmented work instruction platform.

Daqri Smart Glasses exploded view (left) and AR display
(click images to enlarge)

A wide-angle AR tracking camera, which features its own "AR-optimized processor" works in conjunction with the RealSense camera and several sensors to enable environmental awareness. A biometric fingerprint sensor provides security.
The goggle-like eyewear features an adjustable, wrap-around headband with an additional unit on the back. There's also a pocketable tethered unit that can store 12 hours of video.


Daqri Smart Helmet v2 (left) and Daqri Qube
(click images to enlarge)

The pricier
Daqri Smart Helmet
is ruggedized for heavy industrial work, and offers extras such as a thermography camera to detect hotspots. Daqri also sells a
Daqri Qube
mini-PC version with built-in cameras and sensors, but no display, and a Daqri Smart HUD display said to be currently in use in 150,000 cars.
Glass Enterprise Edition (EE) looks much like the original Google Glass Explorer Edition, but is said to be lighter, faster, and more secure, with longer battery life and better WiFi. The device is now offered separately from the glasses, letting you clip it on to standard prescription or safety glasses.


Glass Enterprise Edition
(click image to enlarge)

The voice- and touch-controlled eyewear runs an Android-based OS. It has a built-in 8-megapixel camera, up from the previous 5-megapixel model. To address privacy concerns, an external green light shows when the camera is running.
Glass EE lacks the semi-immersive AR overlays offered by some competitors, and instead offers video feeds and zoomable GUI displays on the side of the FOV. Numerous homegrown and third-party apps for a variety of industrial, logistics, and healthcare scenarios are available. No price or detailed specs are currently available on the device, which is available only to selected corporate partners.
In April, five years after the original, Android-based GlassUp appeared on Indiegogo, Italy-based GlassUp announced that despite completing the prototype, they could not complete the project and needed further investments before they could refund contributors' money. Earlier, GlassUp had survived legal threats from Google over the name, and had scuffled with PayPal.


GlassUp F4
(click image to enlarge)

The consumer-oriented GlassUp prototype, which displays notices from your smartphone, appears to have evolved into an
Uno
model that also seems to have gone nowhere. However, the company claims it has interested manufacturers in a new Linux-based, AR visor style GlassUp F4 model that was officially
announced in March
.
Original GlassUp
prototype
The industrial focused GlassUp F4 features a multi-color, 21° FOV AR display, plus a video camera, a thermographic camera, voice controls, WiFi, and an "illumination system." Other applications are said to include indoor navigation, e-learning/on-the-job training, and teleservice. The product, which is also referred to as the GlassUp Pro, still appears to be in prototype phase, but GlassUp claims it will soon be certified as Personal Protective Equipment for the European market.
The 2014 Linux.com roundup included a $700 Moverio BT-200 eyewear product that ran Android on a dual-core TI OMAP SoC, and offered a 960 x 540 AR display. Late last year, Epson released its Moverio BT-300, which runs Android 5.1 on a faster quad-core Intel Atom-x5 SoC.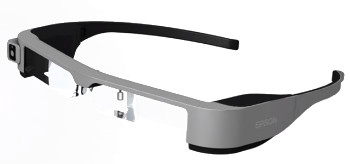 Moverio BT-300
(click image to enlarge)

The Moverio BT-300 is 20 percent lighter than the BT-200, and features a similarly binocular, Si-OLED based display, now updated to 1280 x 720. The display, which was highly praised in this
CNET hands on
, floats a 2D or 3D display in front of your eyes while still letting you see the world around you. However, it's limited to a 23-degree FOV.
BT-300 user (left) channeling his inner Geordi
The BT-300 is further equipped with a 5-megapixel camera, earphones, mic, 802.11ac, Bluetooth 4.1, GPS, 2GB RAM, 16GB flash, and multiple sensors. The main interface is a small, tethered, handheld control with a trackpad, controls, and microSD and micro-USB ports. Despite this weight-lightening measure, the extra-wide eyewear won't be mistaken for typical eyeglasses. Still, that won't matter much in the industrial, enterprise, and drone control applications it targets. There's also an almost identical
BT-300FPV
model designed specifically for controlling DJI drones.
Epson recently launched a BT-350 model selling for $1,399 that has the same basic specs and tethered control pad as the BT-300. The main difference is that it features an adjustable design made to fit multiple sizes, and is aimed at multi-user settings such as headsets distributed to visitors at museums and amusement parks.


Detail views of Moverio BT-350 (left) and Moverio Pro BT-2000
(click images to enlarge)

There's also a new
Moverio Pro BT-2000/2200
headset aimed more directly at industrial applications. This adds a 5-megapixel stereoscopic camera with depth measurement. The device has lower resolution than the BT-300, but offers IP54 protection and ANSI Z87.1 safety glass compliance, and can withstand a fall of 1.2 meters. Despite an extra forehead element, there's still a tethered control pad.
The enterprise-focused M300 is a more advanced version of Vuix's M100 Smart Glasses. Both models are Android-based smart eyewear frames with a monocular display device that sit over your right eye and can fit over a standard pair of eyeglasses. Both models are Google Glass like smart eyewear frames with a monocular display device that can fit over a standard pair of eyeglasses.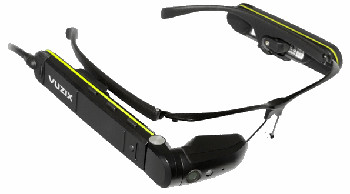 M300 Smart Glasses
(click image to enlarge)

Designed for industrial, medical, retail, supply chain, and remote help desk applications, the M300 Smart Glasses feature a dual-core Intel Atom with 2GB RAM and 64GB flash. There's a 16.7-degree diagonal FOV equivalent to a 5-inch smartphone seen from 17 inches.
You interact with the ruggedized, battery-powered device via voice control, a gesture touchpad, four control buttons, proximity sensors, and a 3-DOF head tracker. Other features include a 13-megapixel HD camera, ear speaker, noise-cancelling mics, dual band WiFi-ac, Bluetooth 4.1, and GPS.


M300 Smart Glasses in action (left) and detail view
(click images to enlarge)

The M300 supports thousands of existing Android apps, and ships with an SDK to write custom apps. Pre-installed apps can be used to track timed events, manage a calendar, and link to a phone running a companion Android or iOS app.
Vuzix is prepping an Atom-based M3000 model with thin waveguide optics and a custom WVGA linear DLP display engine. There's also a similar new Blade 3000 Smart Sunglasses model. Future plans call for an AR3000 Smart Glasses device with a stereoscopic camera that enables more precisely mapped AR applications.
Raptor — Everysight — Pricing unstated
The Android-based Raptor AR glasses for bicyclists and triathletes was announced July 7, and revealed in a series of hands-on stories from which most of the details here are derived, including stories in Digital Trends, Engadget, and Warable. More information should appear on the barebones website when the unpriced eyewear goes on sale later this year.


Raptor
(click image to enlarge)

Everysight is a spin-off of Israeli defense contractor Elbit System, and Raptor is based on HUD technology that Elbit developed for fighter pilots. Everysight managed to squeeze the HUD system and the equivalent of an Android smartphone into a sleek pair of cycling sunglasses that look much like the real thing. The impact resistant Grilamid TR-90 frame is IP55 protected exposure, and supports swappable prescription lenses.
The Raptor displays information such as speed, distance, cadence, power, and turn-by-turn directions. It also shows sensor inputs including Bluetooth connected readouts from an optional heart-rate monitor wristband. Users interact via voice commands, a temple-mounted touchpad, or a handlebar-mounted controller unit.
Raptor in action
The system uses Elbit's "BEAM" OLED-based projection technology, which projects color-coded dashboard readouts directly onto the inside of the lenses so they appear to be floating about 20 feet ahead of you. You can quickly toggle the display on and off.
The system runs Android on a quad-core CPU with 2GB RAM and 16GB to 32GB of storage. Wireless features include WiFi, Bluetooth, and GPS with GLONASS. The Raptor also includes a camera, 8-hour battery, speaker, mic, accelerometer, gyroscope, magnetometer, and barometer.
You can sync music playback from your phone or stream video back to it, with an option to record the Raptor's dashboard display. The cloud-connected system will ship with some basics apps including training apps, and an SDK will enable AR app development beyond biking and running.
Our last roundup included the R-7 eyewear from Osterhout Design Group (ODG). (According to this Gjermund Bjaanes blog post about AR devices posted in March, it's still available for $2,750.) You can now order a more ruggedized R-7HL (Hazardous Locations) model expected to ship later this year.


R-7HL
(click image to enlarge)

Like the R-7, the R7-HL version is an enterprise-focused eyewear product that runs a ReticleOS version of Android 6.0 on a quad-core Snapdragon 805. Other specs are mostly the same except that the HL model adds impact eye protection, Military Standard 810G certification for drop, shock, vibration, low pressure, and temperature extremes, and ANSI Z87.1+ dustproof and splashproof certification.

R-7HL detail view (left) and R-7
(click images to enlarge)

Both models feature dual 720p stereoscopic displays at up to 80fps with a 30° FoV display mapped to the visual field. There's also a separate 4-megapixel camera, 3-DOF head tracking, 802.11ac, Bluetooth 4.1, GNSS (GPS/GLONASS), 3GB LP-DDR3, and 64GB storage. Other features include a trackpad, batteries, multiple sensors, removable earhorns, and an audio port.
R8
ODG is prepping new R-8 and R-9 models with octa-core Snapdragon 835 SoCs that are expected to go on sale later this year. These Android Nougat powered devices advance to dual 720p-60 and dual 1080p-60 stereoscopic displays with 40° and 50° FOVs, respectively. Other improvements include 4GB/64GB (R-8) and 6GB/128GB (R-9) memories, with separate dual 1080p or single 14-megapixel, 4K cameras, respectively. Both the R-8 and R-9 feature 6-DOF tracking.
With GlassUp having set aside its consumer eyeglasses in favor of an enterprise F4 model, Laforge (as in Geordi La Forge), is one of the only smart eyewear companies currently pursuing the consumer market. Unlike Google Glass, Shima looks like a normal looking set of eyeglasses. It's available in different styles and supports prescription lenses.


Shima
(click image to enlarge)

The Shima acts as a Bluetooth accessory that displays notices from your smartphone. It beams a WQVGA display into your retina to show transparent overlay GUIs on the right side of your FOV. The glasses provide real-time updates from social networks, as well as navigational applications linked to the GPS on your mobile device.
Our 2014 eyewear report included Laforge's similar Icis smart glasses, whose beta had just gone on private pre-order for $399. As indicated on this Facebook page, Icis evolved into Shima in 2015. You can currently pre-order the Alpha version of Shima for $590 with a promise that you will later receive the Beta version as a free upgrade. Alpha models are already being delivered, and Beta models will begin shipping later this year.


Shima's AR GUI changes depending on how fast you're moving.
(click image to enlarge)

While Icis ran Linux on a TI Sitara SoC, the Shima is said to run a new Linux-based ghOSt OS on a 180MHz Cortex-M4 STM32F439 MCU. Laforge has yet to reveal the processor for the upcoming Beta version or the future dual display Beta Bold.
The Alpha is equipped with 16MB RAM, 32MB NOR flash, and 1GB SLC NAND flash, which will move to 4GB on the Beta and 8GB on the Beta Bold. All three versions of the Shima feature Bluetooth 4.1 with LE, a micro-USB 2.0 port, a USB Type C charger cable, and sensors including gyro, accelerometer, magnetometer, temperature, and ambient light. You also get five buttons and a touchpad.


Shima styles (left) and Mr. DJ Licorice style
(click images to enlarge)

The lightweight (24 to 27 gram) Alpha and Beta are water resistant and support up to 18 hours of battery life. The Beta Bold will add a camera of at least 3 megapixels, along with a second WQVGA display. The Bold model may possibly feature Siri and/or Google Now integration. A development program and a SocialFlo app offer access to Shima mods such as fitness and meeting programs, as well as an Alexa integration app.
Tobii Pro Glasses 2, which updates the Tobii Glasses 2 model we covered in 2014, differs from the other eyewear covered here. Rather than display information, it uses four integrated eye-tracking cameras in conjunction with a front-facing camera to track your gaze for market and behavioral research applications. The video is stored along with tracking information on a tethered recording unit that fits in your pocket. This is later analyzed on desktop computers, with algorithms including emotion detection.


Tobii Pro Glasses 2
(click image to enlarge)

The 45-gram Tobii Pro Glasses 2 eyewear offers HD video recording at 25fps with a wide 90°, 16:9 FOV. A microphone is also onboard. The eye tracking cameras, which provide 50HZ or 100Hz gaze sampling frequency, use corneal reflection, binocular, and dark pupil tracking with automatic parallax compensation.
The WiFi-enabled recording unit can record up to two hours of video on an SD card, and offers HDMI, micro-USB, and 3.5mm audio connections. Premium live video options let researchers remotely analyze sessions in real time.
Tobii Pro Glasses 2 is just one of many eye tracking products offered by Tobii. The company's latest projects include integrating its eye tracking algorithms into an HTC Vive VR headset, as well as combining Tobii eye tracking with Shimmer's GSR (galvanic skin response) sensor.