Jun 27, 2014 — by Eric Brown — 21196 views
Phytec's Linux-ready, Pico-ITX "PhyBoard" SBC boasts a soldered TI Sitara-based PhyCore-AM335x COM, dual Ethernet ports, and industrial temperature support.

Phytec, which makes a PhyCore-Vybrid SOM computer-on-module built around the Freescale Vybrid system-on-chip, also offers a PhyCore-AM335x COM. The latter, which is built around the Cortex-A8 based Sitara AM335x SoC from Texas Instruments, is now being extended with a Pico-ITX form-factor PhyBoard-AM335x carrier board, the first of a coming line of PhyBoard products.


Two views of the PhyBoard-AM335x SBC
(click images to enlarge)

Like a growing number of embedded boards, the PhyBoard-AM335x (also called the "Wega") blurs the line between a carrier board and a single board computer. Phytec uses a "Direct Solder Connect" technology to solder the module directly onto the carrier board, creating a defacto SBC. This approach is touted as eliminating "costly PCB to PCB connectors" while speeding time-to-market and reducing NRE (non-recurring engineering) costs.

PhyCore-AM335x module
The underlying PhyCore-AM335x COM was shipping a year ago when we referenced it in regard to a rival CompuLab CM-T335 COM based on the same, well-traveled Sitara AM335x. CompuLab clocked TI's 3D-ready SoC at 600MHz, but the version available on the PhyBoard ranges from 800MHz to 1GHz.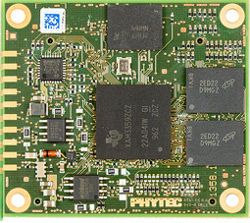 PhyCore-AM335x module, front and back
The 44 x 50mm PhyCore-AM335x COM is available with up to 1GB of DDR3 RAM and 2GB NAND flash. The module is notable for providing a gigabit Ethernet controller with a dual-port switch.
The PhyCore-AM335x runs on 1.5 Watts and supports industrial temperatures. Its 220-pin 0.5mm-pitch expansion connectors provide 24-bit LVDS, dual CAN, dual USB 2.0 OTG, and multiple industrial interfaces.
The PhyCore-AM335x is already available as part of a Rapid Development Kit featuring a larger carrier board that offers more ports than the PhyBoard. The kit starts at $290, and can be expanded with an optional 7-inch touchscreen and WiFi adapter.

PhyBoard-AM335x Pico-ITX board
The PhyBoard-AM335x SBC provides access to only some of the PhyCore-AM335x module's maximum memory. You can choose between 256MB and 512MB of RAM and 128MB to 512MB of flash.
The PhyBoard-AM335x uses the compact, 100 x 72mm Pico-ITX form-factor, but manages to squeeze in a few real-world ports. The board makes use of the PhyCore-AM335x module's dual Ethernet ports, but they've been downgraded to 10/100Mbps ports. You also get USB 2.0 host and micro-USB 2.0 OTG ports. CAN and RS-232 interfaces are onboard, with optional adapters, and audio I/O is also available.


PhyBoard-AM335x port detail
(click image to enlarge)

A main expansion connector supports Phytec expansion modules, starting with an evaluation module that provides an RS-232 port, three buttons, three LEDs, and a JTAG port. Dual A/V connectors support LVDS touchscreens, and an optional adapter gives you an HDMI interface.
Both commercial and industrial (-40 to 85°C) versions of the board are available. There are also multiple power supply options available including 5V, 12V, 24V, or USB power.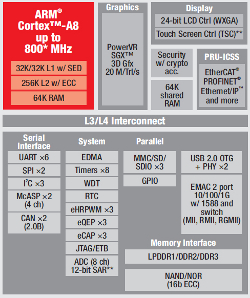 Block diagrams: PhyBoard-AM335x SBC; TI Sitara AM335x SoC
(click image to enlarge)

The board supports Windows Embedded Compact, and will soon support Android. However, the main focus is on Linux, which is supported with an open source BSP based on Ubuntu 10.04 or 12.04. The BSP includes bootloader, kernel, file system, toolchain, Eclipse IDE, and a
PTXdist
build system. A Linux Live DVD is said to be optional.
Specifications listed for the PhyBoard-AM335x include:
Processor (via PhyCore-AM335x COM) — TI Sitara AM335x (1x Cortex-A8 @ 800MHz to 1GHz); PowerVR SGX530 3D graphics
Memory (via PhyCore-AM335x COM) — 256MB to 512MB DDR3 RAM; 128MB to 512MB NAND flash
Storage — MicroSD slot
Networking – 2x 10/100Mbps Ethernet ports
Other I/O:

USB 2.0 host port
Micro-USB 2.0 OTG port
CAN interface with optional adapter
RS-232 interface with optional adapter
Audio I/O
A/V connector 1 — LVDS display interface with backlight supply and control; supports HDMI via optional adapter
A/V connector 2 — Capacitive and resistive touch, plus I2S, I2C, and control I/O
Expansion connector — 3x serial, 4x GPIO, 4x analog in, 2x MMC, plus USB host, I2C, SPI, JTAG, and control I/O

Optional expansion module (PEB-EVAL-01) — RS-232, 3x buttons, 3x LEDs, JTAG debug
Other features — RTC
Operating temperature — 0 to 70°C; optional -40 to 85°C
Power — 5V, 12V, 24V, or USB power; optional 2-pin Phoenix power plug
Dimensions — 100 x 72mm (Pico-ITX)
Operating system — Linux (ships with Ubuntu-based open source Linux BSP and optional Live DVD); Windows Embedded Compact; Android coming soon

Further information
No pricing or availability information was provided for the PhyBoard-AM335x. More information may be found at the Phytec PhyBoard-AM335x SBC product page. The PhyCore-AM335x COM is available now, including availability as part of a Rapid Development Kit with carrier board that starts at $290. More on the module and kit may be found at the PhyCore-AM335x COM product page.