Dec 5, 2012 — by LinuxGizmos — 299 views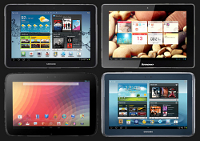 This article at DeviceGuru.com compares the key features and specs of four of today's most interesting Android tablets: Samsung's Galaxy Tab 2 10.1 and Galaxy Note 10.1; Google's Nexus 10 (also made by Samsung); and Lenovo's IdeaTab S2110.

"The answer to the question of which tablet is best is highly dependent on your own personal priorities relative to price, performance, screen resolution, and other issues," says DeviceGuru. The article compares the four tablets' user interfaces, features and specs, performance benchmarks, and prices, and concludes with a summary of their relative strengths and weaknesses in comparison to one another.